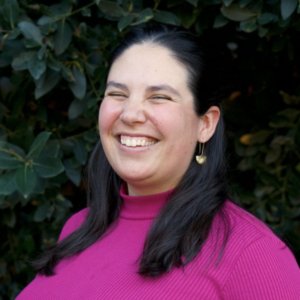 Dr. Kelley Langhans (she/her)
Postdoctoral Associate 
___________
Kelley is an interdisciplinary conservation scientist, with a focus on urban ecology, ornithology, access to nature, justice, and human dimensions. She obtained her PhD from Stanford's Department of Biology, where she studied conservation in human-impacted landscapes and how preserving ecosystems can benefit both people and biodiversity. Kelley has engaged with government, NGOs, and communities to solve environmental problems, from reforestation policy in Costa Rica to access to nature in community gardens in San Francisco, CA. Her work centers research that has a concrete practical outcome, and considers people and issues of equity as an integral part of conservation. She earned her BA in Biology at Swarthmore College, and previously worked in the Helmus and Behm lab at Temple University. Kelley is passionate about diversity, equity and inclusion in science, and deeply values community-based research and performing science in service of community change.
In the Dayer Lab, Kelley will be researching both wildlife viewing and bird feeding. As part of the lab's multi-state wildlife viewing grant, Kelley will be assisting in facilitating a community of practice to help state fish and wildlife agencies better connect with wildlife viewers, and working to understand access to nature for urban wildlife viewers. Kelley will also be joining a cross-university interdisciplinary team using the participatory science Project FeederWatch to better understand how bird feeding affects both bird health and human wellbeing. In that work, Kelley will be focusing on diversifying participation in Project FeederWatch and understanding links between bird feeding and human emotions and wellbeing.
When she's not working, Kelley enjoys hiking, nature journaling, collecting far too many houseplants, and cooking for her 20-person coop.