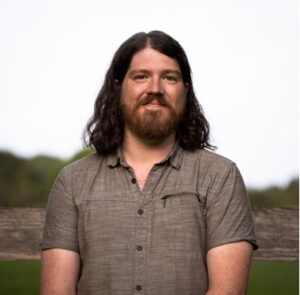 Dr. Nathan Thayer (he/him)
Postdoctoral Associate 
___________
Nathan Thayer is a Human Geographer and a postdoctoral associate in the Dayer Human Dimensions lab in the Department of Fish and Wildlife Conservation at Virginia Tech. Nathan earned a Ph.D. in Geography at the University of Delaware in 2023. Nathan's research focuses on the diverse ways caring relations and ethics are entangled with contemporary antiracist struggles in the United States. His dissertation research focused on care in three arenas. First, at the national scale thinking through the ways that care, taken often as a normative good, plays a role in the ongoing production of white supremacy in the United States. Second, looking at the way caring and uncaring relations are woven into the initiatives and work aimed at producing more diverse, equitable, and inclusive institutions in higher education. Finally, Nathan looked at care in the classroom, thinking through strategies for building a community of care through teaching to build antiracist practices. In total, Nathan is concerned with the actions, processes, and ethical orientations aimed at producing wellbeing that work to build more liveable worlds.
As part of the Dayer lab Nathan is working in collaboration with an interdisciplinary research team and three ornithological professional associations (American Ornithological Society, Wilson Ornithological Society, and the Association of Field Ornithologists). The project is centered on developing a process for co-creating affinity groups within professional associations aimed at increasing diversity, equity, inclusion, and belonging.
When he isn't working, you can find Nathan picking on the banjo and guitar, taking hikes with his partner and dog, and making messes while cooking.