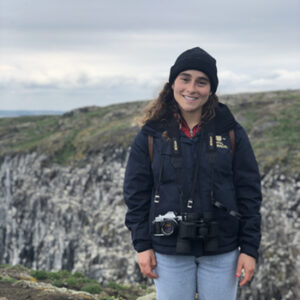 Christy Pototsky (she/her)
PhD Student
___________
Christy Pototsky is a PhD student in the Department of Fish and Wildlife Conservation supervised by Dr. Ashley Dayer. Christy graduated with a BSc in Ecology and Conservation from the University of St. Andrews in 2019. Between her undergraduate and Master's degrees, she worked in practical conservation, including surveys for the Maryland-DC Breeding Bird Atlas, which ignited her passions for participatory science and ornithology. This experience inspired her Master's research on the scientific and conservation planning impacts of citizen science ornithological atlases. She completed her MSc (by research) in Biology at the University of St. Andrews at the start of 2022 and immediately joined the Dayer Human Dimensions Lab at Virginia Tech as a research technician. 
Her doctoral research is a collaboration with Project FeederWatch, a citizen science program that asks volunteers to identify and count the birds that visit their bird feeders. The interdisciplinary research team uses data from Project FeederWatch to: 1) connect people's bird feeding and habitat management actions with observable ecological responses (e.g., disease outbreaks), and 2) elucidate how such ecological responses to human activities ultimately influence human emotions, actions, and overall mental well-being. In addition, Christy also researches the broader practice of wildlife viewing (intentionally observing, feeding, or photographing wildlife) and collaborates with state fish and wildlife agencies to understand their wildlife viewers. Their survey work has identified opportunities to enhance the relevancy of state fish and wildlife agencies to wildlife viewers, particularly those who are not already engaged in hunting and angling, avenues for building partnerships with viewers to support implementation of state conservation plans, and potential strategies for engaging viewers in conservation funding mechanisms. 
When she's not working, Christy very much enjoys being lazy: slow runs, slow reading, listening to good music, and eating good food.